Unmatched capacity and spectral efficiency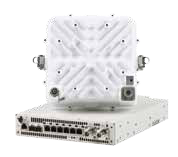 Delivering from 2 to 4 Gbps per link, Horizon Quantum represents the next generation in packet microwave technology and sets a new benchmark for performance. With dual-channel capability, this split-mount system is a step change in spectral efficiency, capacity, nodal intelligence, and operational simplicity; all while occupying only half a rack unit and consuming the lowest power per bit of any solution today. In addition, the Horizon Quantum's integrated switching means that it can provide aggregation and restoration in a single unit.
With this level of performance – in a packet microwave system that is remarkably simple to install and operate – operators can now avoid the high cost and long delays associated with fiber deployments, yet achieve the capacity and reliability they require for all of their future applications and services.
Solution Highlights:
2 to 4 Gbps capacity with DragonWave's Bandwidth Accelerator
8 GbE ports with intelligent nodal ring and mesh switching for carrier-grade reliability
Highest spectral efficiency
Advanced radio features including service aware Hitless Automatic Adaptive Modulation (HAAM) and XPIC
SyncE support and optimized transport of 1588v2
Pay-as-you-grow with automatic remote scalability
FIPS 140-2 certified – integrated 256-bit AES encryption
Comprehensive Ethernet OAM support (802.3ah, 802.1ag, Y.1731)
Advanced QoS support with 8 levels of prioritization
Comprehensive management and provisioning with DragonVision NMS
Lowest total cost of ownership solution