High Power Multi Carrier Packet Microwave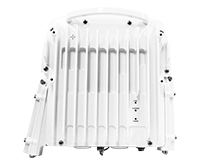 This high capacity packet microwave builds upon the Harmony Enhanced family by delivering a multi-carrier system thereby doubling the capacity available in a single ODU. Because the radio and modem are integrated into a single highly compact outdoor unit, Harmony EnhancedMC is a zero footprint solution – eliminating rack congestion and minimizing colocation space. The Ultra High Power increases the overall system gain and allows for deployment of smaller dishes, higher order modulations, or increased link availability.
Equipped with DragonWave's Bandwidth Accelerator+ technology, the Harmony EnhancedMC achieves the highest degree of spectral efficiency (through 4096 QAM, 4 x 4 MIMO and wider channels), delivering more capacity per channel with a longer reach than any other all-outdoor microwave system.
Harmony EnhancedMC delivers industry leading capacities up to 4 Gbps in a single radio and 8 Gbps in a single channel with MIMO or a single antenna with XPIC.
With unmatched capacity and system gain, simple installation and operation, as well as sophisticated remote management capability, the Harmony EnhancedMC delivers significant lifecycle cost savings for service providers and enterprises alike.
This innovative, carrier-grade packet microwave solution operates in licensed or unlicensed spectrum from 6 to 42 GHz.
Solution Highlights
Zero footprint, fully integrated all-outdoor unit
Ultra high power radio with up to 35dBm of transmit power
4 x 4 MIMO ready hardware supporting up to 8 Gbps capacity with DragonWave's Bandwidth Accelerator+
Single Radio XPIC configuration
Dual Channel Support
Wide channel support up to 112 MHz
Up to 4096QAM modulation support
Service aware Adaptive Code and Modulation (ACM)
SyncE support and 1588v2 Transparent Clock
Pay-as-you-grow with automatic remote scalability
Multi-port capability including an integrated 10GbE port
Comprehensive Ethernet OAM support (802.3ah, 802.1ag, Y.1731) and MEF services
Advanced QoS support with 8 levels of prioritization
Comprehensive management and provisioning with Netviewer NMS
Intuitive EMS with Linkview
Lowest total cost
Key Applications
4G and 5G Mobile Backhaul
3G Backhaul Aggregation
Leased Line Replacement
Last Mile Fiber Extension
Private and Enterprise Networks
All-Outdoor trunking application